Warning: The full synopsis contains "spoilers" which describe key plot points. If you don't want to know the plot and outcome of this film then please don't read any further.
A Diamond Robbery
The film begins with a diamond robbery which takes place to what is almost unbearably dramatic background music. We then cut to Scotland Yard where Alastair, as investigative reporter Joshua Collie, is rather inexplicably allowed to take part in the police debriefing of the crime. At one stage, Collie almost seems to become the de facto head of the enquiry when he comments that the police should think less about apprehending the small-time criminals who committed the crime and more about the bigger fish behind the majority of thefts in London (see Memorable Quotes).
The Leopard Club
The film now cuts the "The Leopard Club" for no other reason it seems than to display the singing and dancing talents of the sultry Tamara. Her boyfriend, Larry Graeme, has come to meet her backstage to inform her of a last chance "business opportunity" that will put an end to all their worries; this opportunity is no less than the theft of the Van Rissik pearls. Alastair, as the irrepressible Joshua Collie, is now seen being berated by his newspaper editor for missing out on the pearl theft scoop due to his obsessive concentration on his story to unmask the Squeaker. It is rather odd that Alastair, being Scottish and having a perfectly adequate Scottish accent of his own, plays the part throughout with a somewhat over-the-top comic Scottish accent. It would be interesting to know if this was a decision made by the Director or Alastair himself.
Barrabal
The police have rounded-up the usual suspects for a line-up to assist in the Van Rissik robbery. Disgraced ex-detective Barrabal, with his scarcely concealed drink problem, has also been rounded-up for the line up. The Superintendent escorts him into a side room and decides to share his overriding concern for arresting the Squeaker. This is particularly strange in that the Squeaker seems to be single-handedly responsible for turning-in to the police all of the known jewel thieves in old London town. However, Barrabal is promised his job back if he can remain off the drink and capture the Squeaker. The film cuts to Larry Graeme trying to sell the Van Rissik pearls to a silhouetted Squeaker. Graeme refuses the Squeaker's unreasonable offer but in doing so becomes the first to recognise him. Uncannily, in his first move to locate the Squeaker, Barrabal turns up on Larry Graeme's doorstep but receives short shrift from the gentleman thief. Lowe pla! ys Barrabal as an affable character and there are some fairly humorous moments as he is forced to decline various drinks. Next, Barrabal meets up with Joshua Collie who is able to effect an introduction for him with a certain Frank Sutton. Once again, it seems fairly odd that Scotland Yard in its entirety is unable to trace the identity of the Squeaker but a newspaper reporter and drunken down-and-out (who has been out of the country) both seem to be able to home-in on Sutton with ease.
Armed with Collie's introduction, Barrabal now meets the respectable and innocent Miss Stedman, wealthy heiress and fiance of Frank Sutton. The film seems rather badly edited at this point as no sooner has Barrabal walked into Sutton's Reception area than he is shaking hands with Miss Stedman in Sutton's office. Barrabal is posing as the down-and-out Captain Lesley looking for a job. Barrabal and Miss Stedman seem to fall for each other with what is unseemly haste and Miss Stedman persuades Sutton to give him a responsible position. Barrabal calls at Collie's home to thank him for the introduction and Collie, with a knowing grin, asks him if he knows anything about the Squeaker.
In a peculiar twist, Barrabal's Superintendent calls Frank Sutton in to the Yard and warns him that Barrabal/Captain John Lesley is a fraud with a criminal past. This presumably must be a pre-determined ploy to make Sutton edgy so that he makes a mistake. However, later, when Miss Stedman (having been told by Sutton) confronts Barrabal/Lesley with the knowledge of his criminal past, he seems genuinely confused as to how she came by this information. Cut to another seemingly gratuitous song from Tamara in "The Leopard" night club where, with a certain premonition, she sings "I Can't Get Along Without You".
Larry Graeme
Sutton receives a long-playing record through the post; it is a recording of Larry Graeme's voice warning him to keep quiet about their meeting on the embankment. They both have knowledge which assures their mutual destruction but Sutton/The Squeaker bizarrely decides to "squeak" to the police about Graeme's theft of the Van Rissik pearls.
Miss Stedman and Barrabal now argue about Barrabal's "criminal past" . It is at this point that Barrabal seems genuinely confused as to who may have relayed this information to her and why. He's not the only one.
We now have the priceless scene in which Larry Graeme, gentleman thief with £5,000,000 worth of pearls at his disposal is arrested whilst traveling on a London bus. When offering to pay his fare to the ticket inspector he is told by the detective: "This one's on Scotland Yard". The detective then proceeds to pay the fare as he arrests him - that's "arrest" whimsically spelt "A, double-R, R,E,S,T" by Joshua Collie as he dictates his news report about Graeme's arrest.
At the Stedman Manor, Frank Sutton informs Miss Stedman that he still intends to employ Barrabal/Captain John Lesley in spite of his criminal past. Miss Stedman, however, feels he should be dismissed because she is upset that he has lied to her. However, Barrabal, on his arrival at the Manor, manages to charm both Miss Stedman and her mother, so that he is not only kept on but he is also invited to the party at Stedman manor the following week.
Graeme refuses to squeal to the police about the Squeaker's identity. He then makes the first escape from Scotland Yard in over twenty years. He visits Tamara for the last time (this, of course, being the last place that Scotland Yard would think to look for him!). After he leaves, now armed with a gun, the chanteuse sings "He's Gone" with some sadness and conviction.
The Stedman Party
The following week, at the party held in Stedman Manor, Captain Lesley, rater oddly, has completely usurped the place of Frank Sutton in Miss Stedman's affections ("Frailty, thy name is woman" a certain Danish Prince once declared) yet Sutton has still been invited to the Stedman gathering. Larry Graeme has received information that Sutton will be present and makes his way there with the intention of killing him; on arrival, however, he decides that he will just hand him over to the police. However, he is outwitted and subsequently murdered by Sutton. Barrabal discovers the body. Joshua Collie is used to move the plot forward in the guise of telephoning reports in to the office. Barrabal is arrested for Graeme's murder in a ploy to deceive the Squeaker/Sutton.
Unbearable Psychological Pressure
Barrabal interrogates Tamara for any information she may have that will help convict Sutton as the Squeaker. She is unable to tell him, however, the name of the man Graeme had gone to meet. Barrabal then wrong-foots Sutton by dropping the persona of Captain Lesley and appearing in his guise as police detective. He then uses almost surreal tactics in an attempt to unnerve him: First, we have a parade of all the felons that Sutton's squeaking has helped to convict (they all appear like phantoms dressed in white); then while supposedly showing him the way out, Barrabal leads him into a darkened room and attempts to unnerve him by pretending to lock the door; Sutton attempts to make a telephone call but the line is dead; we then have a series of doors opening which have the effect of shining a spotlight on Sutton; Barrabal then fires a tirade of abuse at Sutton and ends with revealing Graeme's dead body to him. A dastardly trick! How could a criminal mastermind who has managed for years to stay ahead of London's nastiest villains and who has only just recently shot this man in cold blood, possibly stand the psychological torment of being shown the dead body? Sutton breaks down, confesses, and collapses in a faint against the wall. Joshua Collie concludes the film by reporting upon Barrabal's re-instatement and romantic conclusion to the case.
Mrs. Stedman: Carol's told me so much about you. Barrabal: Not too much I hope.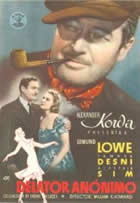 Joshua Collie: You might find bigger game than a jewel thief if you could follow those diamonds tonight.