The Millionairess (1960)


Should probably get a three-star rating but gets four because Sophia Loren is so stunningly beautiful as a spoilt heiress, Epifania Parerga, able to buy anything she wants. And she primarily wants a husband. When she meets an Indian doctor whose sole concern is to help the poor and needy, she decides that he is the man for her. Although the doctor is also in love with her, he is so terrified of being in her power that he foils all her attempts to "buy" him. It is only by setting endurance tests for each other are they able to be sure of their true feelings. Alastair is wonderful as the lawyer whose sole aim is to protect the Parerga estate at all costs. Full synopsis
Epifania: How could my father have entrusted his legal business to such a heartless blackguard? Sagamore : You may have put your finger on the very reason.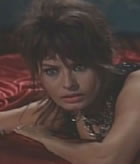 Sagamore: Epifania, how can you throw all these innocent people out of work? Think of the hardship you will impose on these helpless directors.
Epifania: I am of the Aristocracy of money. Dr. Kabir : Ah, that is a disease for which I do not prescribe. The only known cure is a revolution.